Make a difference with every mile.
Venture Miles gives everyday athletes a way to turn their physical activities into social justice impacts. Athletes create fundraisers for global causes, track their mileage, and create tangible impacts in developing nations.
UX Strategy
UI Design
Product Design
Adobe XD
Illustrator
Lucid Charts
Venture Miles has failed to create an easy-to-use app interface which has confused and frustrated users resulting in minimal app usage, and low account sign-ups.
How might we improve Venture Miles to better guide the user, and lower overall user confusion and frustration?
What do we want users to ultimately do with this app?
What functionality is missing or hidden to help users accomplish their goals?
Are we using the right language?
What processes can we simplify?
Some of challenges faced in this project were limited budget, complications from working with and reworking an existing database, and many cooks in the kitchen.
To better understand our users we conducted qualitative research with current and past users of the app. We were able to boil down the users into two main groups: Joiners and Starters. The Joiners segment are users who join existing groups and movements in order to make a difference, Starters are highly-influential trail blazers who create movements and push themselves and others in order to make a difference.
Both groups are motivated by making and seeing tangible impact throughout the world. They are driven by a moral compass to do the right thing, and live for others more than themselves.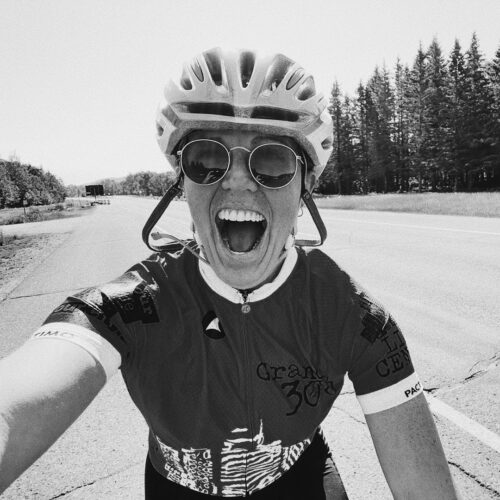 Mariah wants to make a difference in the world. She is warm, caring, and friendly, which makes her day job as a barista that much easier. Outside of work, Mariah is connected to a strong community of young adults. Their conversations are filled with laughter, but also fueled by discussion of what they can to do make a difference for the less fortunate. Not an avid cycler, Mariah uses the app to join a fundraiser with her friends in order to challenge themselves and create awareness for social justice.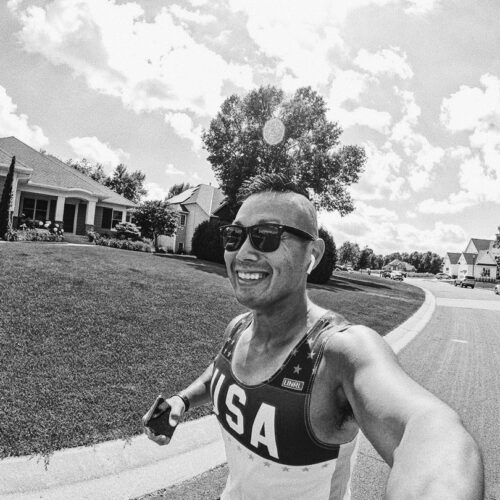 Brent is a bonafide self-starter. He is bold, genuine, and motivated. Brent uses his spare time to create fundraisers and movements for others to join. He knows that if he can create the movement, others will naturally join. He is a unifier of purpose and passion, and others are drawn to him for this reason. Brent uses the app as a way to invite others to join his movement and create a global impact.
We learned that the current home screen was too abstract which led to confusion for users; there was no clear directive, and navigation was absent. We took the user flows and end goals, and reworked the home screen to place the most pertinent info for a fundraiser front-and-center. Now, when a user opens the app, they will see the info they care about: their fundraising and mileage progress. New users will be prompted to join a challenge right from the home screen.
From left to right: original screen, multiple iterations, final home screen design.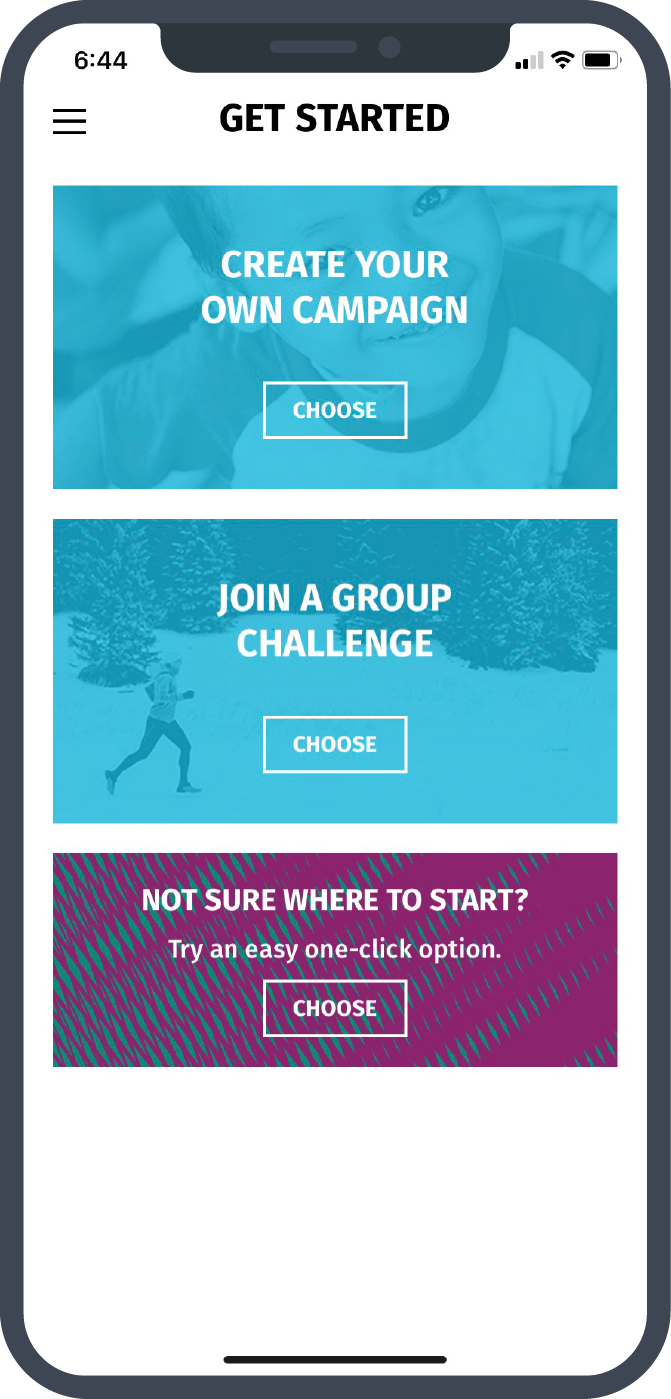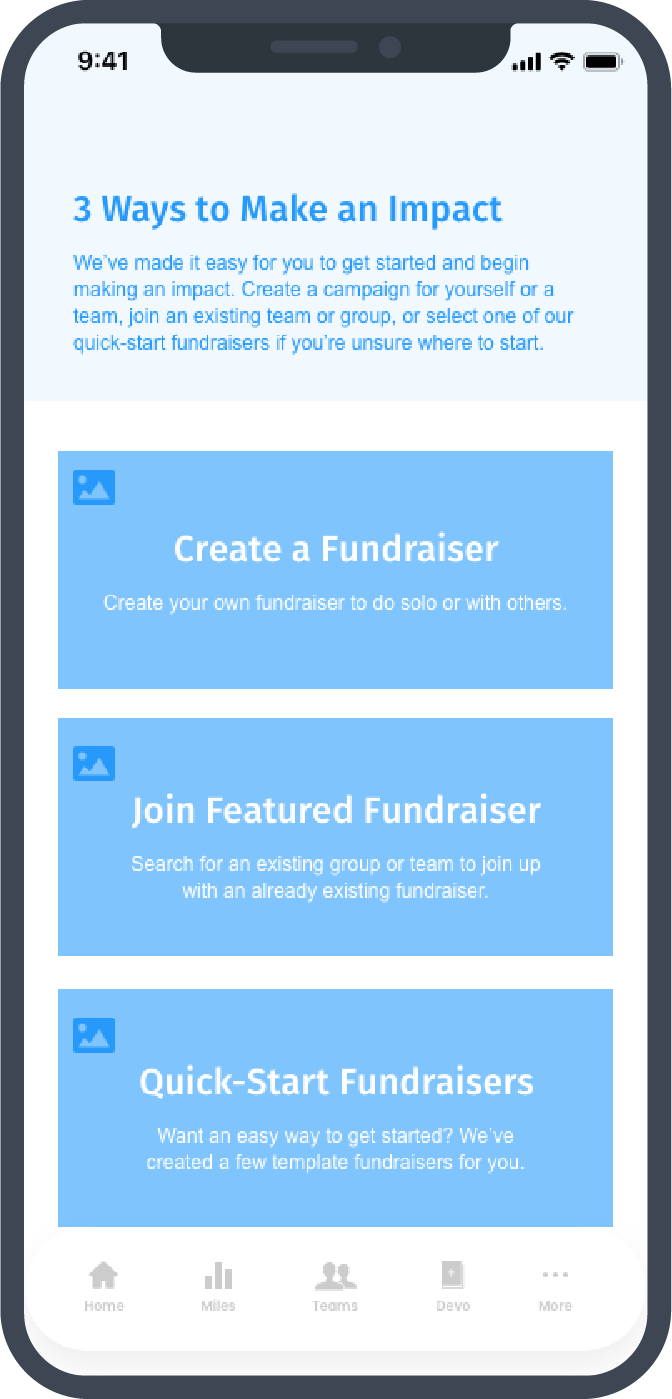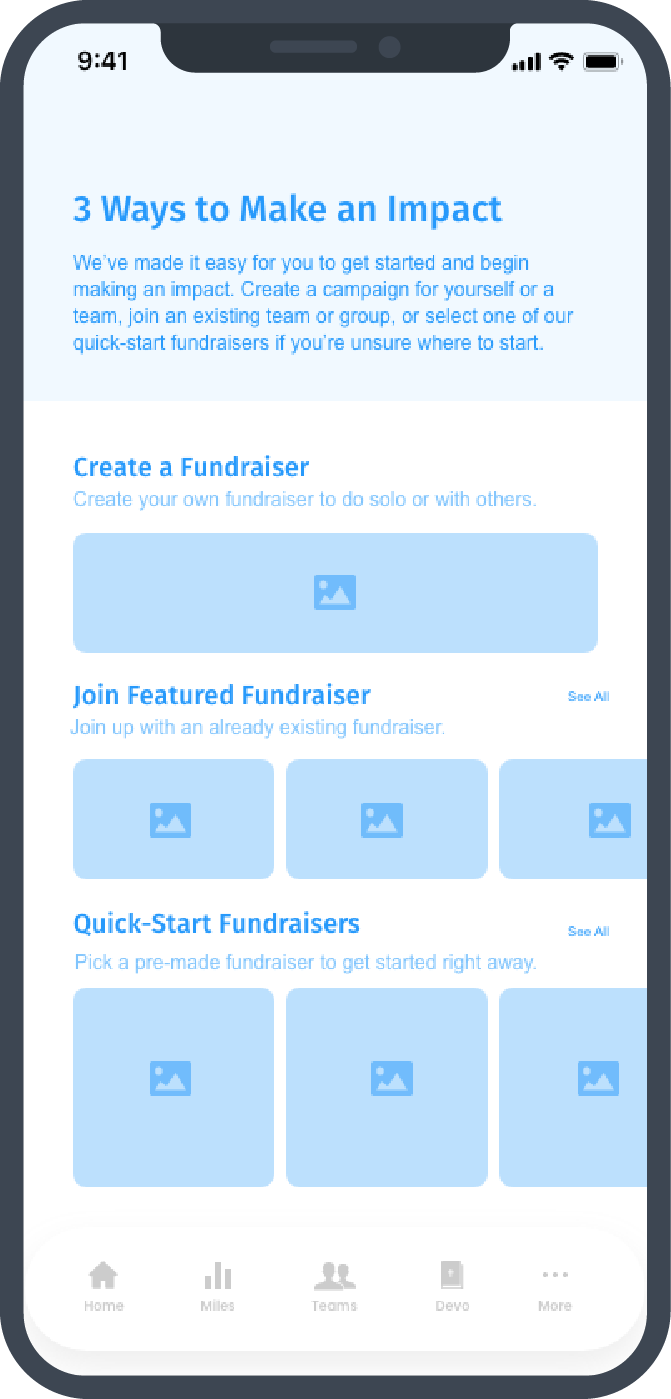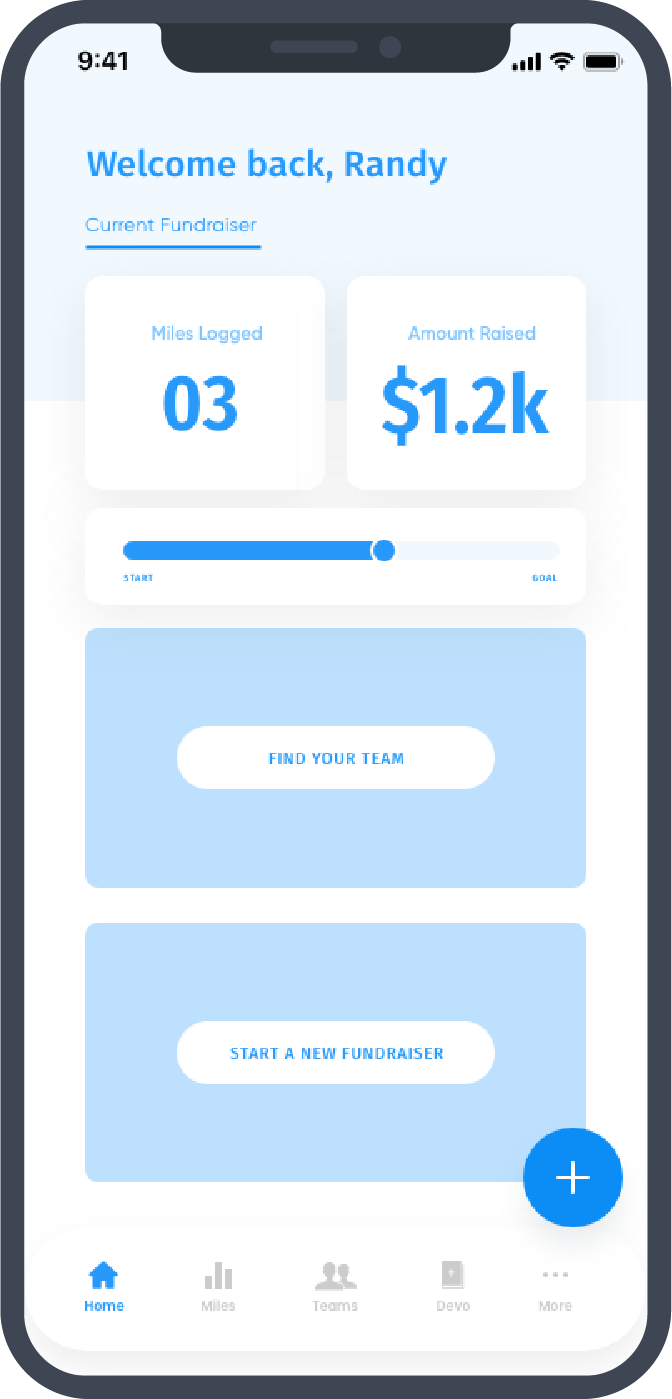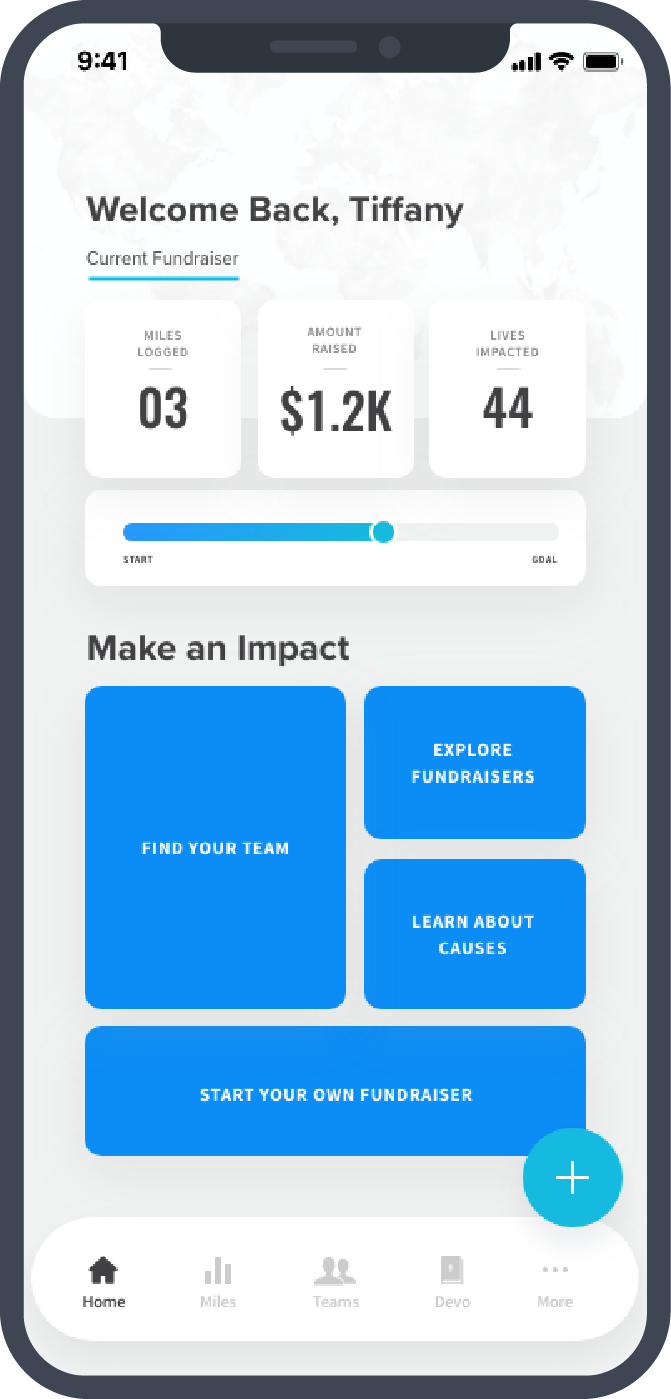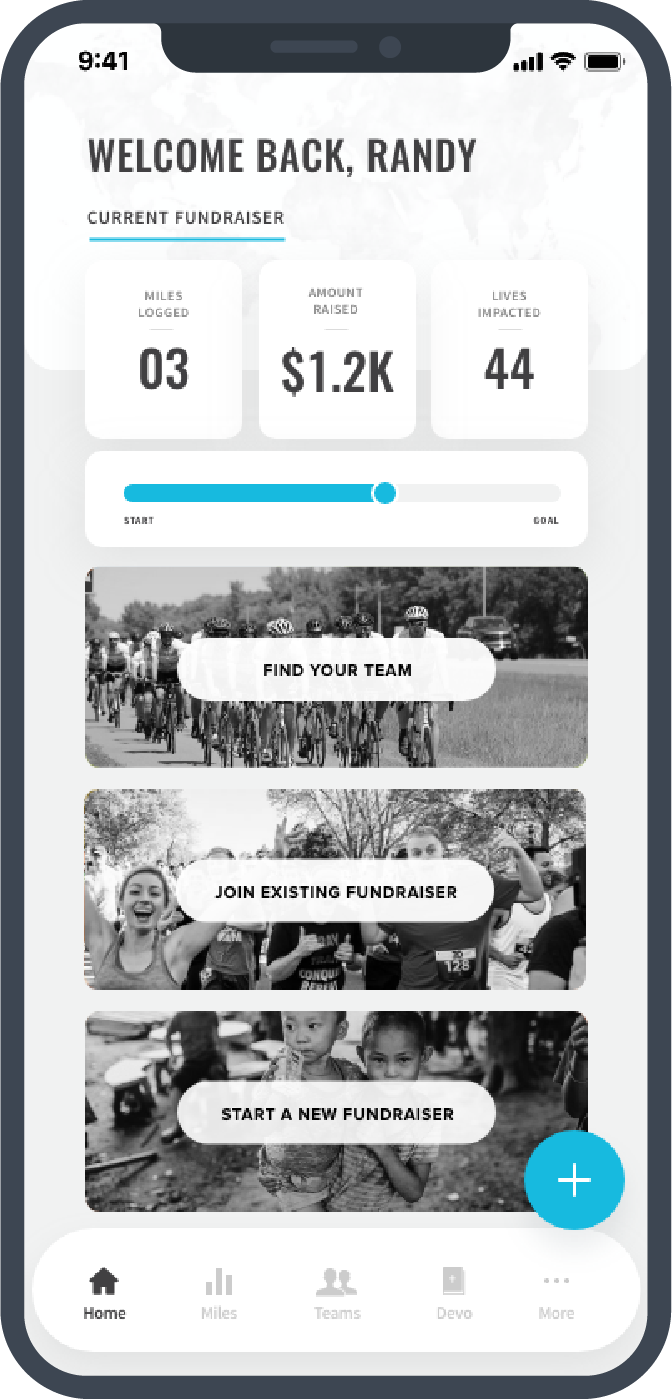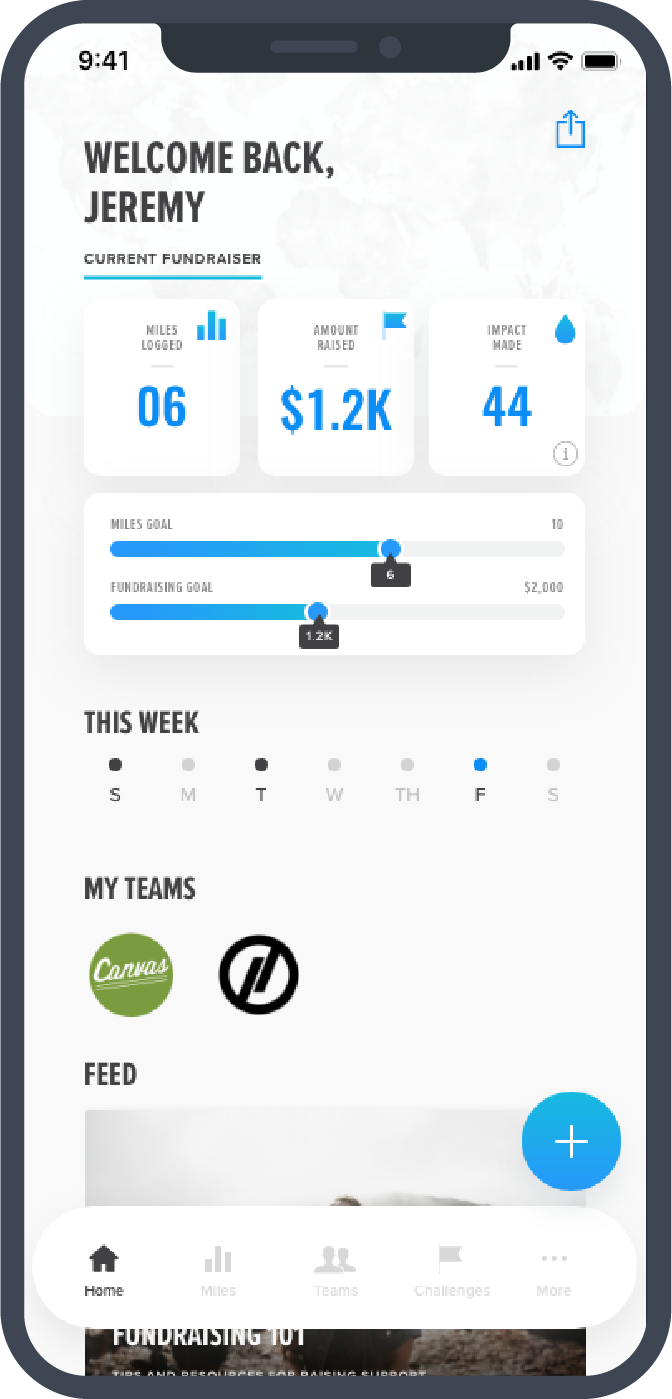 I was in charge of creating all design aesthetics throughout the app. Guided by some loose brand parameters, I extended the brand look/feel to seamlessly function within the app by creating gradients, choosing related fonts, and art directing imagery that fit the brand ethos.



Once we completed the initial designs, we created a clickable prototype in order to get feedback from users on the new design. Based on their feedback, we continued to make iterations to improve the usability of the new UI.
Throughout the app, the UI was considerably improved to make screens easier to use and understand for both new and current users. Below is a collection of before & after screens from different parts of the app.
The app has entered into a Phase 1 development to be built and released for users to begin using in early 2021. Our team will track usage and feedback to improve the app further with a Phase 2 development in the future.
There has been steady excitement from previous users who have seen and interacted with the new prototype. This grassroots excitement will help users and Venture create greater global impact.